---
You can add an Aux Input to your BMW! We believe that everyone should be free to listen to whatever they want – no more burnt CDs or cassette adapters. Our aux input kit works great for BMWs approximately 1997-2005, especially pre-2003 radios. You simply connect a cable to your factory radio and install a tiny module – Quidzel will be here to guide you as you start enjoying your music again!
---
Pre 2003 BMW Aux Input kit
The simplest way to get an aux input for your older stereo. (Includes emulator and radio cable)
---
Aux Input for 2003+ e46 models
Only cable is needed for 'aux capable' head units (~9/2002+)
$14.99
---
Free shipping in the USA! Questions? Email us at customerservice@quidzel.com
Install INSTRUCTIONS 🙂
Your satisfaction is guaranteed with a 1 year warrantee, and we offer no hassle returns within 30 days.
Compatibility
Quidzel's aux input kit works great with
1999-2005 e46 3 series (no navigation)
1997-2003 e39 5 series (no navigation; no DSP before 2002)
1999-2006 e53 x5 (no navigation; no DSP before 2002)
Please check with us regarding compatibility for other models that use I-Bus like Mini Cooper, etc.
Plan on 1/2 hour install on an e46.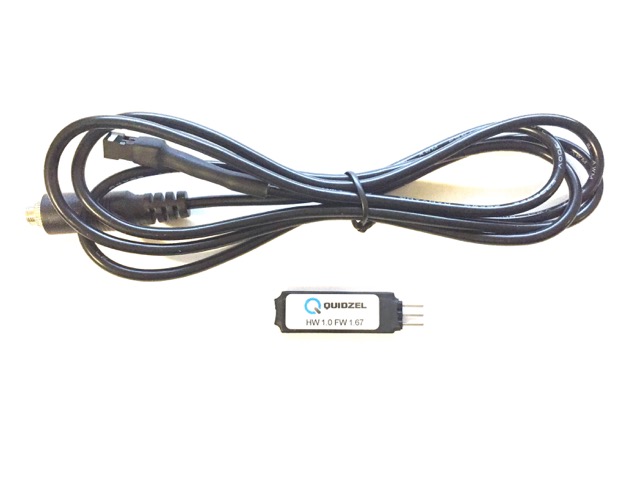 Aux Input Cable is 1m long, allowing for installation on lower dash or glovebox area.
Drill 1/4″ hole and install, leaving a clean finish, or leave exposed with no drilling required. Here's mine installed in the sunglasses cubby under the climate controls.

Terminated in a 3.5mm female panel mount jack and connects to the back of your stereo.

Install connector white line UP to back of head unit marked RED. For 2003+ e46 aux cable, install connector white line DOWN to back of head unit marked ORANGE.




Small module interfaces with the Radio to select CD changer input. For those who just want the module, here's a button for buying just the CD changer emulator – $39.99


Our aux input replaces your CD changer, if so equipped. Make sure that your CD changer wiring color and order match exactly to the following image, with the module's silver stripe lined up with the brown wire. Plugging into the similar phone connector with different wiring order/polarity can damage the module!

(Note: please view the install video above to understand the installation. If this appears complex, seek the help of a professional car audio installer near you, who should be able to install this easily.)
Our pre-2003 aux input solution also works great for post-2003 cars that have had trouble with the factory aux input disconnecting. Our aux input will not disconnect whether you use a bluetooth dongle, a charger (use a ground loop isolator to minimize noise)