BMW Traffic Jam Assistant (TJA) is a driver aid system that offers lane keeping assist along with adaptive cruise control in limited scenarios, specifically highway traffic situations where the system is adept at following the car ahead at low to medium speeds, controlling steering, accelerator, and braking inputs. Many recent models with active cruise control already have the software and most of the hardware required.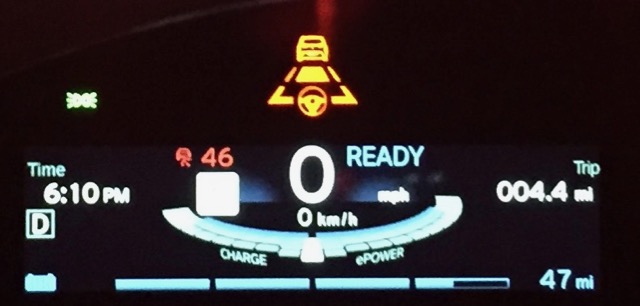 Our HOD emulator helps enables BMW Traffic Jam Assist on your BMW vehicle with ACC (option code 5AT). The small module installs in about 2-3 minutes, and is fully reversible.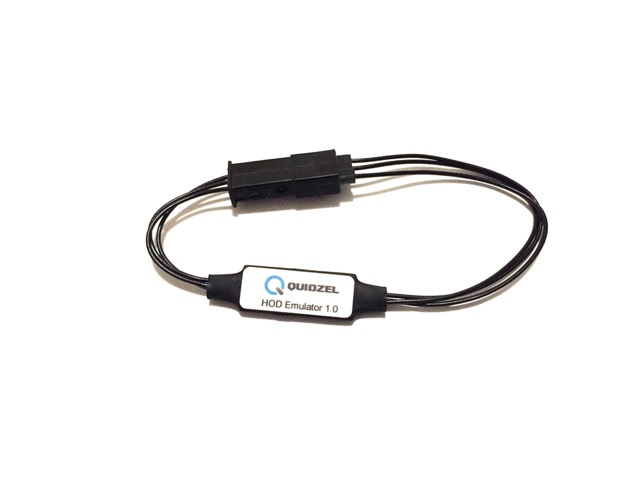 It must be said that you must remain attentive and in control of the car by holding the steering wheel at all times. You are responsible to monitor and correct your car's driving – you will find that TJA is not autonomous driving and its technical ability is limited. When conditions are inappropriate, a chime and flashing indicator will notify you that steering assistance has ended.
HOD Emulator
The simplest way to retrofit BMW TJA!
$299.99 via PayPal with free shipping in the USA
30 day returns; 1 year warranty
Compatible with recent Fxx BMWs with option 5AT (ACC)
Questions? customerservice@quidzel.com
How does it install on an i3?
=
How does it install on an F15 X5?
Frequently Asked Questions:
1.) What do I need to code my car?
– You'll need a laptop, E-Sys and an Ethernet-OBDII connection; check forums for details and tutorials on setting that up.
Check out http://www.bimmerfest.com/forums/showthread.php?t=983244
There's coding services out there if you'd rather not.
2.) can I use the Bimmercode app & V-gate dongle?
– As of 9/12/2018 – Perhaps in the future on some models. Bimmercode->expert_mode does offer FDL coding of the modules, but we haven't yet heard of someone successfully coding TJA using Bimmercode FDL coding. We definitely recommend e-sys for now.
3.) How do I VO code option 5AR with e-sys?
– There's two basic steps to the coding procedure, and this assumes you have gained familiarity and are comfortable working with e-sys.
a.) Modify your Vehicle Order to include 5AR
1. Under Expert Mode-> Vehicle Order -> Read FA and save in known location, and make a 2nd copy for backup
2. Under Editors -> FA Editor, open saved FA file and expand all in left hand pane. Find SALAPA-Element field and add 5AR, (include the comma, and make sure that you've just entered those 4 characters after another comma).
3. Enter the data with the arrow box (lower right) above the text box.
4. Right click on FA (upper left pane), and calculate FP. You should see 5AR listed as an option now in the right hand pane.
5. Save the file.
6. in expert Mode-> VCM, open the saved FA file using … under the file tab near the bottom.
7. Calculate FP again to ensure the 5AR option is shown on the right.
8. in expert Mode-> VCM, Write FA FP to write the saved FA file in the master tab near the bottom. Now your Vehicle Order has been rewritten. If you read your car's vehicle order, it should have 5AR TJA as an option on the right hand pane after activating.
b.) Code all ECUs.
1. go back to expert mode->Coding, read ECU on the right. You should see all your ECUs populate on the left.
2. Right click on the top level SVT folder above the ECU tree, and Read Coding. Then go save all the current FDL coding to a different folder for backup.
3. Then right click top level SVT, and Code. This will update all modules CAFD for the new FA. Generally all modules need to be updated with the new FA, even if the 5AR change only affects BDC_Body, Kombi, & ICM/SAS.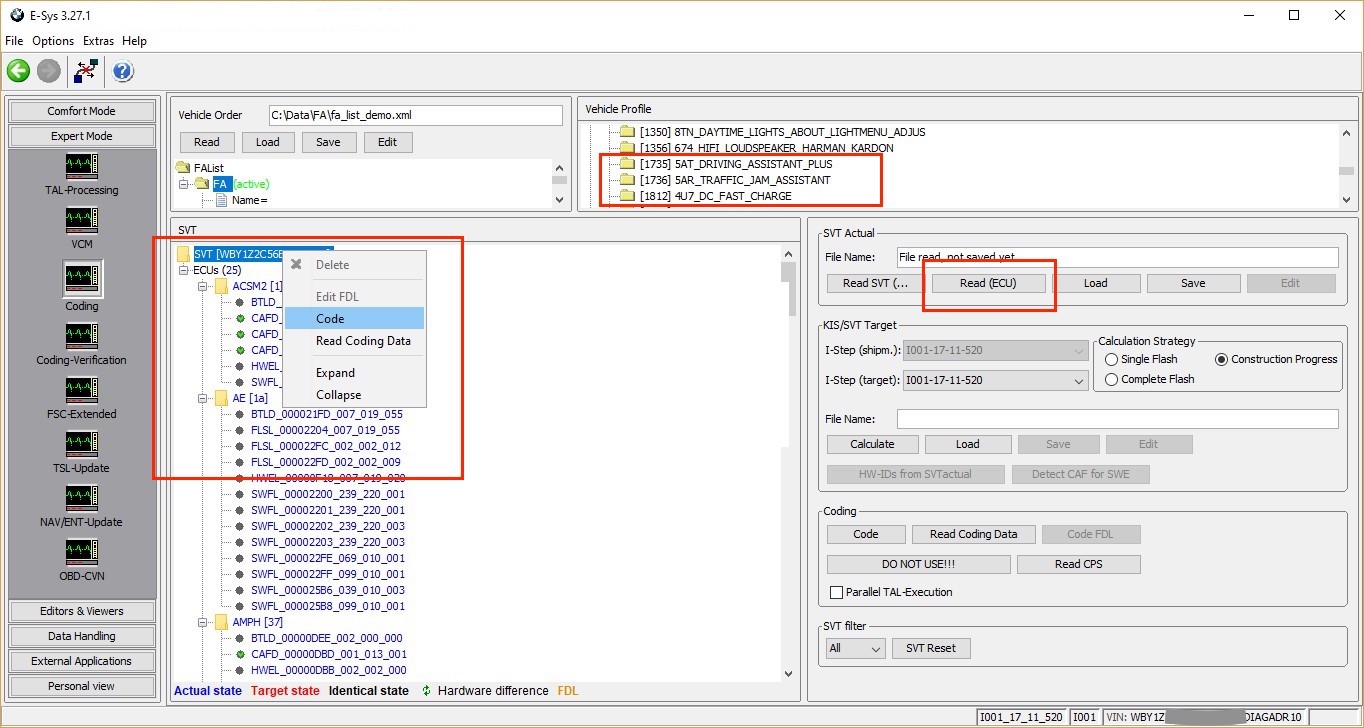 4.) Do you have a specific list of codes to change if I would rather FDL code than FA code?
– While in theory you should be able to just FDL code, we've had a lot of trouble getting it working. (working on it for BimmerCode)
5.) What about my preexisting coding changes?
– Adding TJA to your car via VO coding will erase any coding changes made through E-Sys or Bimmercode for the modules that are involved with TJA. Your coding changes will need to be reapplied, similar to when your car is reprogrammed by BMW service. I'd recommend making a note/backup of what changes you've made to what modules so you can reapply your preferences.
5.) Does TJA work with Active Steering?
– Some cars have active steering (variable rate) that still uses hydraulic power steering, and unfortunately TJA is not compatible. TJA needs electric power steering to operate.
Assuming your car has the other hardware requirements, complete the coding, and enjoy TJA!