BMW Traffic Jam Assistant (TJA) is a driver aid system that offers lane keeping assist along with adaptive cruise control in limited scenarios, specifically highway traffic situations where the system is adept at following the car ahead at low to medium speeds, controlling steering, accelerator, and braking inputs. Many recent models with active cruise control already have the software and most of the hardware required.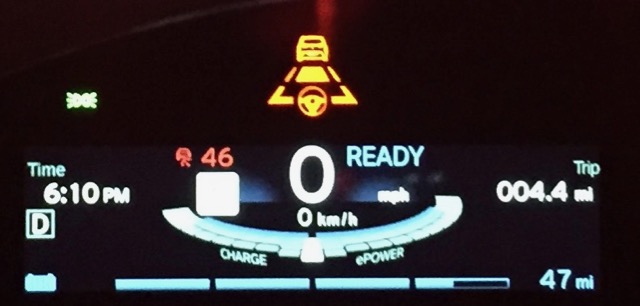 Our HOD emulator helps enables BMW Traffic Jam Assist on your BMW vehicle with ACC (option code 5AT). The small module installs in about 2-3 minutes, and is fully reversible.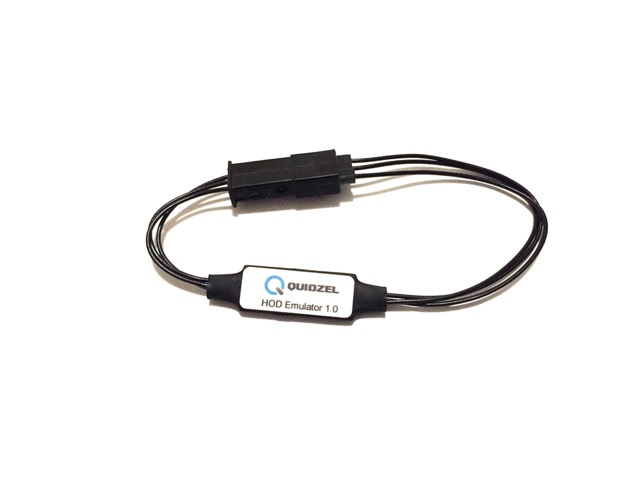 It must be said that you must remain attentive and in control of the car by holding the steering wheel at all times. You are responsible to monitor and correct your car's driving – you will find that TJA is not autonomous driving and its technical ability is limited. When conditions are inappropriate, a chime and flashing indicator will notify you that steering assistance has ended.
HOD Emulator
The simplest way to retrofit BMW TJA!
$299.99 via PayPal with free shipping in the USA
30 day returns; 1 year warrantee
Compatible with recent Fxx BMWs with option 5AT (ACC)
Questions? customerservice@quidzel.com
How does it install on an i3?
=
How does it install on an F15 X5?
Frequently Asked Questions:
1.) What do I need to code my car?
– You'll need a laptop, E-Sys and an Ethernet-OBDII connection; check forums for details and tutorials on setting that up.
Check out http://www.bimmerfest.com/forums/showthread.php?t=983244
There's coding services out there if you'd rather not.
2.) can I use the Bimmercode app & V-gate dongle?
– As of 6/20/2018 – Perhaps in the future on some models. Bimmercode->expert_mode does offer FDL coding of the modules, but we haven't yet heard of someone successfully coding TJA using Bimmercode FDL coding. We definitely recommend e-sys for now.
3.) How do I VO code option 5AR with e-sys?
– Since different vehicles have different modules that need to be coded, we have recommended VO coding the option to your car and then code all modules from the updated FA list XML file.
– General steps to VO code.
a. Connect E-SYS
b. Under Expert Mode-> Vehicle Order -> Read FA and save in known location, and make a 2nd copy for backup
c. Under Editors -> FA Editor, open saved FA file and expand all. Find SALAPA-Element field and add 5AR, (include the comma, and make sure that you've just entered those 4 characters after another comma).
d. Enter the data with the arrow box above the text box.
e. Right click on FA, and calculate FP. You should see 5AR listed as an option now.
f. Save the file.
g. in expert Mode-> VCM, open the saved FA file using … under the file tab near the bottom.
h. Calculate FP again to ensure the 5AR option is shown on the right.
i. in expert Mode-> VCM, Write FA FP to write the saved FA file in the master tab near the bottom. Now your Vehicle Order has been rewritten.
j. go back to expert mode->Coding, read ECU on the right. You should see all your ECUs populate on the left.
k. click on the top level ECU folder, and Read Coding. Then go save all the current FDL coding to a different folder for backup.
l. Then click relevant modules to VO code, usually BDC_BODY, KOMBI, and ICM/SAS.
4.) Do you have a specific list of codes to change if I would rather FDL code than FA code?
– While in theory you should be able to just FDL code, we've had a lot of trouble getting it working. (working on it for BimmerCode)
5.) What about my preexisting coding changes?
– Adding TJA to your car via VO coding will erase any coding changes made through E-Sys or Bimmercode for the modules that are involved with TJA. Your coding changes will need to be reapplied, similar to when your car is reprogrammed by BMW service. I'd recommend making a note/backup of what changes you've made to what modules so you can reapply your preferences.
Assuming your car has the other hardware requirements, complete the coding, and enjoy TJA!
Average rating:
2 reviews
Jul 14, 2018
Takes about 15 minutes to install assuming you don't know what you're doing. This thing works as advertised. Awesome!
Feb 23, 2018
Всем добрый день, я являюсь владельцем bmw i3 уже на протяжении трех лет. на форумах bmw встретил ссылку на данный сайт и его изделия. Одним из предложений был BMW Traffic Jam Assist (TJA) - это система помощи водителям, которая выполняет управление автомобилем между полосами на дороге. Мой bmw i3 привезен из Колифорнии, живу я в Киеве , Украина. Данная функция на моем автомобили отсутствовала но поставим этот МАЛЕНЬКИЙ ЧИП и включив несколько программных функций я получил автомобиль который без проблем передвигается в городе самостоятельно, вращая руль , притормаживая и ускоряясь. Спасибо большое производителям за данное изделие которое помогает комфортно находится в моем автомобиле и которое стоит всего пятую част стоимость этих функций если их заказывать на заводе bmw. Еще раз благодарен производителю за ответственность к своим заказам, так как я нахожусь очень далеко после первой отправки модуля я не смог получить его в своей стране только благодаря упорству и уважению ко мне как покупателю данный продавец смог удовлетворить все мои пожелания сделав повторную отправку за свой счет. СПАСИБО. Пусть Ваш бизнес процветает
Велике спасибі!